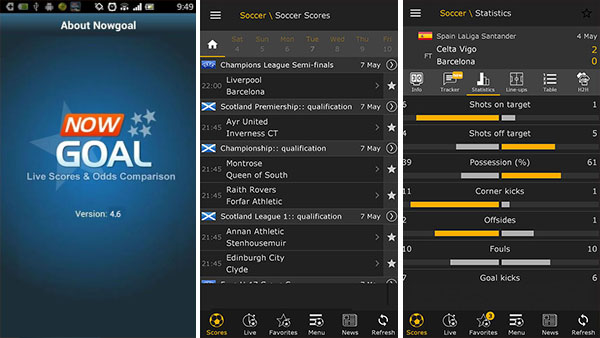 LiveScore
keeps you up-to-date with the latest scores and live sports action. From goals to cards, wickets to overs and fixtures to final results, LiveScore has everything you need, all in one place. In-depth coverage for football, tennis, cricket, basketball and hockey means you can follow your team no matter what sport, competition or league they play in. You can also get breaking sports stories in the 'news' section, perfect for all player transfer updates and Fantasy Football prep.
LiveScore's reputation for being fast and reliable means it's the perfect app for every sports fan. Whether you're into the Premier League, La Liga, Serie A, Ligue 1 or Bundesliga football, the Ashes or Twenty20 cricket, US Open series tennis, or Hockey tournaments, you'll find out first with LiveScore.
KEY FEATURES
LiveScore's Ball Tracker – check the pitch view to follow the ball, scores and action, so even if you can't watch the match, you'll still be in the know.
Tap the Explore icon to easily search and find your favourite competitions across the biggest sports.
Read breaking sports news for major sports & leagues, including the Grand Slams, the Ashes, Premier League, Champions League and La Liga.
Tap the star next to any match for live notifications or favourite a league so you can quickly get to the scores and details of matches you care about.
Find out what matches are coming up with the new calendar feature, helping you look further ahead for those all-important Fantasy Football decisions.
LiveScore will deliver fast updates with the latest scores and info.
VIEW LINE-UPS, MATCH STATISTICS AND LIVE COMMENTARY
See upcoming fixtures and previous results, with all of Europe's premier cups and leagues covered – including the Premier League, La Liga, Serie A, Ligue 1 and Bundesliga.
View line-ups as soon as they're announced.
Detailed live match commentary, including goals scored, assists, corners, cards and descriptions of the action – ideal for Fantasy Football fans.
Star a match to get alerts to keep track of what's going on, including goals and red cards for multiple matches at the same time.
Check club form and the results of previous meetings in the head-to-head section.
See champions made and teams relegated as the league table updates in real time.
Plus, possession, shots and fouls stats at the match end.
It's not just soccer LiveScore focuses on. You get updates from the wicket, ball and stump details in cricket's top matches, to point-by-point and serve updates in the biggest tennis matches on the ATP or WTA World Tours.
WORLDWIDE SCORES AND SPORT
Whether you say "football", "soccer", "calcio" or "fussball", you'll be able to find your team. More than 1,000 live football and soccer matches are followed every week during the season for the premier cups and leagues worldwide.
Follow your favourite tennis players in their quest to become champions at ATP & WTA events and each of the Slams. Check all the tournament's results and view upcoming matches, then follow in-play commentary when the players are on court.
NowGoal
Goal Live Scores is the most complete football app on the market. Bringing you the fastest live football scores AND breaking news straight to your mobile.
All global leagues, European competitions, internationals and more… Goal Live Scores has it all.
Full of great features, including:
INSTANT GOAL ALERTS
We guarantee you will not find a faster live scores app!
EXTENSIVE MATCH STATISTICS
Line-ups, live text commentary, tables, fixtures and in-game stats powered by Opta.
HEAD-TO-HEAD DATA
See how teams match up against their upcoming opponents, using our Head-to-Head section.
TOP PLAYERS & TEAMS
Discover the planet's most in-form stars through our Top Players and Teams features.
ADVANCED TEAM FORM
Follow your team's form and see how they compare against their next opponent.
TRANSFER UPDATES
Keep up to date with the latest transfer news, from sources you can trust.
NEWS FEATURES
Access to all of Goal's latest articles, breaking football news stories and in-depth analysis.
Free Livescore
: Find minute of play, half time results and other live scores data. Free Livescore lets you stay updated daily with all today's matches with live scores and final results, upcoming matches schedules and match statistics. Free Livescore is used by millions all over the world covering all popular sports like football, soccer, tennis, cricket, basketball and hockey.